PaJeS – UK
The growth of Jewish schools is perhaps one of the greatest success stories of the Anglo-Jewish community. With 120 UK Jewish schools educating over 37,000 children, they play an essential part in ensuring the Jewish identity of the next generation.
The Partnership for Jewish Schools (PaJeS), formerly the Jewish Curriculum Partnership (JCP), today offers strategy, training, support and services across these schools.
The Wohl Legacy's contribution to cross-school support began with the recognition of a need for an improved Modern Ivrit curriculum in Jewish schools, and funding for the Wohl Primary School – and then Secondary School – Ivrit Programme.
As the necessity for a more strategic oversight body became clear, PaJeS was established in 2013, with ongoing support, funding and direction from the Wohl Legacy.
Now a central reference point for UK Jewish schools, PaJeS is widely recognised for the essential services it delivers in four key areas; strategic development, professional pathways for teachers, educational initiatives and centralisation of school services for future sustainability.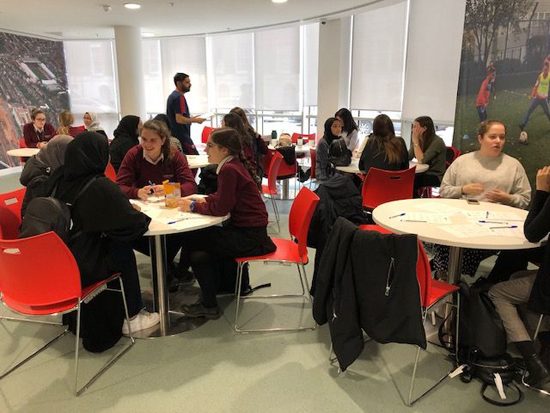 Arsenal Interfaith Day - Girls from Hasmonean High School joined girls from Islamia Girls School for a day of planning and learning about each others religious festivals