Children Ahead – UK
In 2012 members of the Stamford Hill Orthodox Jewish community identified a lack of special educational needs provision in Charedi boys' schools.
Many had limited awareness about learning difficulties and therefore failed to understand the need for support and intervention. In addition, few schools had Special Educational Needs Co-ordinators (SENCOs).
The charity Children Ahead was established to address this problem. Within a decade they have transformed the landscape of special educational and disabilities (SEND) provision for boys in the UK Charedi world and set nationwide precedents for change in the independent school sector.
Impressed with their continued insight and vision, the Wohl Legacy has worked with Children Ahead from the outset, offering funding and guidance.
An initial pilot programme in the Belz community, to train teachers to identify and support special needs, using a range of integrated therapy interventions, was later rolled out more widely through the community's Orthodox boys' schools.
A training scheme for SENCOs followed, with every Stamford Hill Charedi school now having its own SENCO.
In 2013, after merging with a parent-led, like-minded organisation, Children Ahead opened a therapy centre to offer direct support to children with special educational needs, taking a holistic approach including emotional therapy. The Wohl Parent Resource Centre was created in 2015, providing information, advice and support services.
Ultimately for, Children Ahead, the target has always been sustainable SEND support and intervention for children in the Charedi school system. In 2019, Wohl Legacy funding enabled the charity to successfully advocate for local authority provision for the assessment and therapeutic support for children with mild to moderate needs at independent schools.
Recently they also expanded to a pilot programme working with Stamford Hill girls schools – see press release here.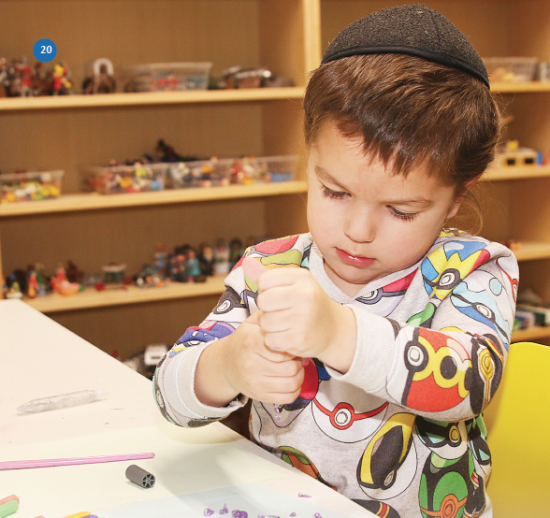 Children Ahead - teaching children to identify how emotions are felt in their bodies, working through visualisation, psychotherapy, mindfulness and more, to process emotional issues in the therapy room