The Wohl Clean Growth Alliance – Israel
The aims of the Clean Growth Alliance is to further promote cooperation between the UK and Israel in areas of clean growth, linked to food, water and energy.
The programme supports and fosters strong ties between the UK and Israel, advancing dialogue and collaboration between scientists, policy makers and others working on critical issues for our planet for the benefit of all.
The Alliance gives non-research grants to encourage and develop joint academic research between the UK and Israel in the fields of energy generation, such as solar, wind and wave power, energy distribution, robotics and precision technology in agriculture.
In 2022, the Wohl Clean Grown Alliance supported over 20 projects proposed by 28 different UK and Israeli academic institutions. It led two sustainability delegations of Israeli and UK academics heading sustainability in their institutions to the UK and Israel respectively, and sponsored the annual DeserTech competition, designed to accelerate innovative technologies to address global desert challenges.
led by the British Council, chaired by His Majesty's Ambassador Neil Wigan and funded by the Wohl Legacy. It continues to facilitate groups of researchers and policymakers and complements ongoing UK-Israel collaborations in other sectors, including tech, industry and innovation.
Visit The British Council Israel
Visit The DeserTech Competition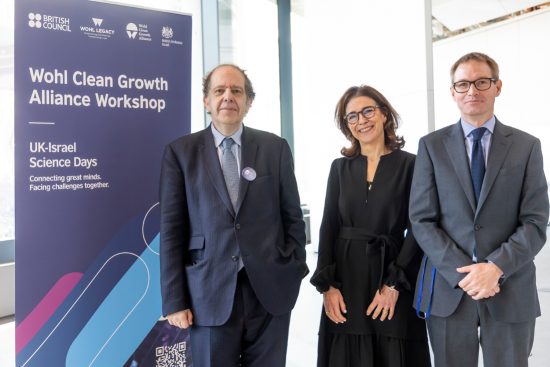 Promoting opportunities for dialogue & collaboration between leading scientists in Israel and the UK, to discuss pressing global issue, including sustainability and the environment