Translational Medicine – Israel
A major challenge facing medical research today is how to make use of findings emerging from scientific studies for the benefit of patients.
The field of translational medicine allows researchers and clinicians to take advantage of advanced technologies and knowledge to translate the achievements of research from bench-top to bedside and community.

The Wohl Legacy believes that investing in translational research is vital to truly understanding disease mechanisms. This, in turn, will lead to the development of the most effective and targeted therapies for complex (multi-gene) diseases, such as cancer and degenerative conditions, and will enhance the emergence of personalised medicine. For this reason, the Wohl Legacy provided grants to aid the establishment of two centres of excellence in this field, the first of their kind in Israel: the Wohl Institutes for Translational Medicine at both Sheba Medical Centre and Hadassah Medical Organisation. These two facilities, which opened in 2017 and 2019 respectively, should provide a dramatic stimulus to translational medicine in Israel to help meet global clinical needs.
In 2020 world-renowned scientist Professor Gideon Rechavi, who heads up Sheba's Wohl Institute, overseeing this vital research, was awarded the Israel Prize for Medical Science.
Visit the Hadassah Medical Organisation and the Sheba Medical Centre
COVID-19 EMERGENCY RESPONSE

During the COVID-19 emergency, Sheba Medical Centre, ranked one of the world's top ten hospitals, has quickly begun tapping into state-of-the-art Israeli technologies to provide rapid testing for those in quarantine and to monitor COVID-19 patients remotely, reducing pressure on the system and health risks for medical staff.
At Hadassah Medical Organisation, staff are also working on the front-line treating and testing patients. Within the Wohl Institute on site, two laboratories have been set up for diagnosis of the Coronavirus samples, with Hadassah responsible for one-fifth of the tests done in Israel to date. In addition samples are being collected and frozen from asymptomatic and symptomatic subjects in order to establish a biobank for future research. In the short term, efforts are focused on critical research to improve testing and trial treatments.
Read more on COVID-19 emergency efforts at Sheba Medical Centre and Hadassah Medical Organisation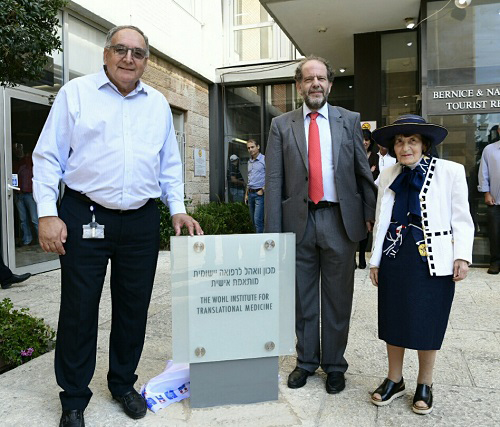 The Wohl Institute for Translational Medicine at the Hadassah Medical Organisation in Jerusalem, with Director General Professor Zeev Rotstein and Wohl trustees Professor David Latchman CBE & Mrs Ella Latchman at the opening