Work Avenue London – UK
In a rapidly changing world, gaining skills for life is crucial for individuals to maintain financial independence to support themselves and their families.
Work Avenue is an employment and business charity, operating in London's Jewish community, established with the aim of supporting people into employment through commercial skills, workplace training, networking opportunities and work placement support.
Since 2009 the Wohl Legacy has supported the charity's vision and worked towards its sustainable growth with grants and engagement.
In 2015, to meet the increasing demand for its services, the Wohl Legacy facilitated the creation of the Wohl Enterprise Hub in Finchley, 6,500 square feet of fixed desking, hot-desking, break-out pods, private offices, meeting and conference rooms and a cafe.
Businesses at WE Hub work together collaborating and sharing ideas, while benefiting from one-to-one advice sessions and regular workshops on topics crucial to business development. Crucially WE Hub acts as a catalyst for networking and collaboration ensuring that their businesses succeed and grow whilst helping one another. The new facility has provided a state-of-the-art infrastructure enabling Work Avenue to support over 3,700 people annually.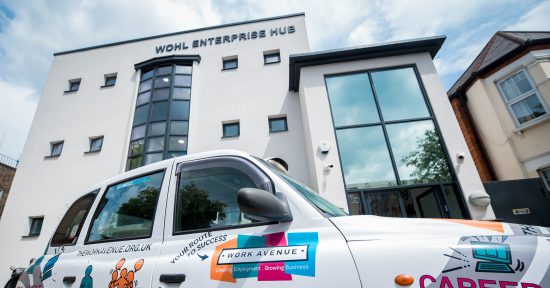 The Wohl Enterprise Hub is home to Work Avenue, an employment and business charity operating in London's Jewish community